Growing communities since 2000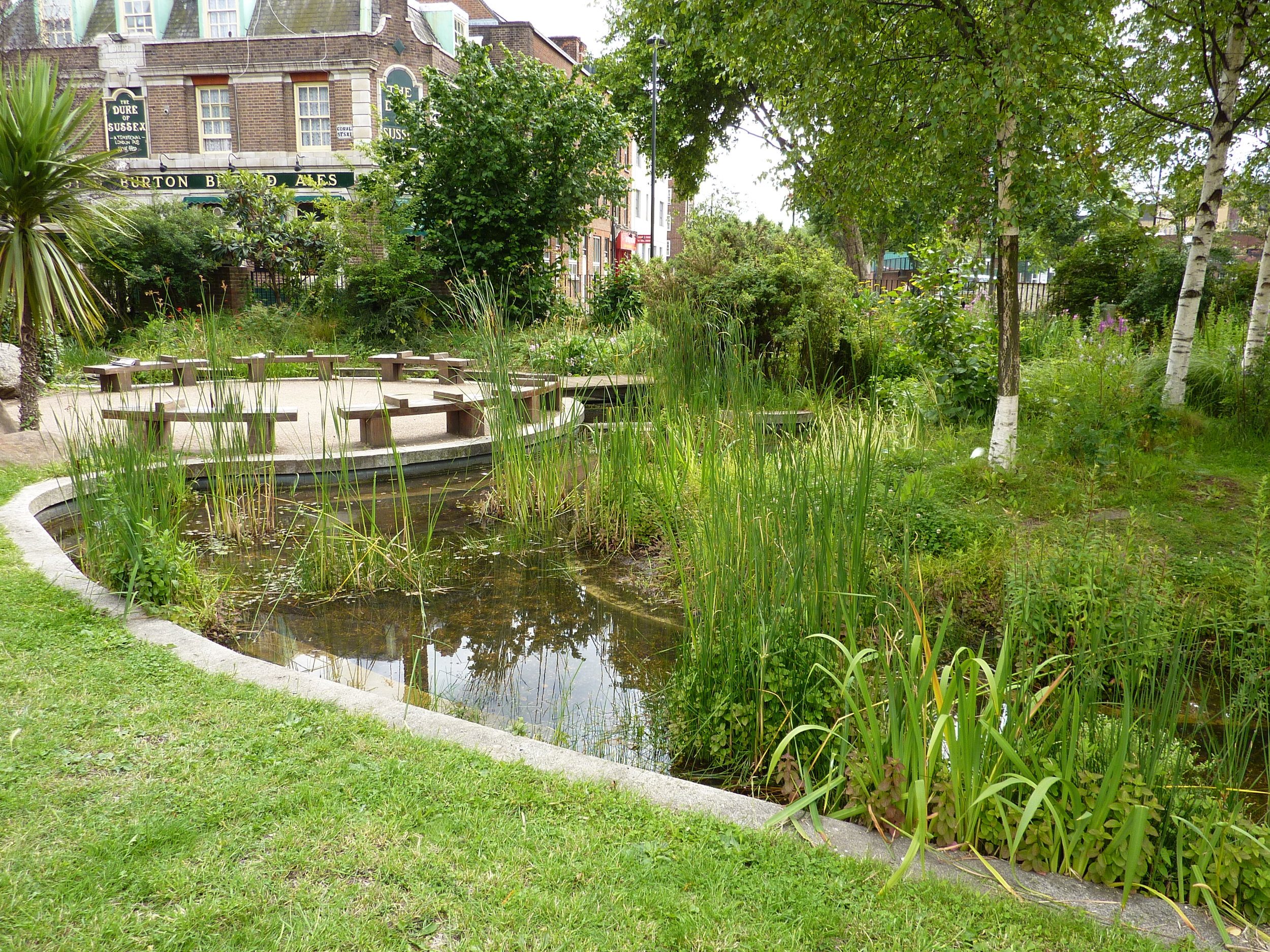 Download a walking map of all our sites, created as part of the Mayor of London's National Park City Festival, here.
Red Cross Garden
Red Cross Garden is an award winning park which we renovated and restored to its original Victorian layout in 2005. Steeped in history, this park was built along with its neighbouring cottages in 1886.
Waterloo Millennium Green
Visit this lovely park which is a stone's throw from Waterloo station, admire the wildflowers in the grassy edges, and look for dragonflies over the pond. You could easily believe you are far away from the urban bustle, but still enjoy the charms of nearby Lower Marsh and both the Old and Young Vic theatres.
Crossbones Garden
This garden was one of our most difficult sites to work with the graveyard and the shrine championed by local writer John Constable with the Friends of Crossbones, and other local individuals and local companies, we campaigned for almost 10 years to turn the site into a garden of remembrance. I
Tate Community Garden
Opened on the 20th of June 2006 and during the conception of Tate Modern, it was decided that a piece of land should be set aside for a community garden so that local people could enjoy peace and quiet in what would become an area of intense tourism.
Marlborough Sports Garden
Marlborough Sports Garden is a fantastic public open space a few minutes walk from London Bridge. The Sports Garden is used by the local community who value it for the role it plays in promoting the health and wellbeing of residents and as a rare outdoor space providing much-needed access to physical activity, sport, and leisure pursuits.
Diversity Garden
The Diversity Garden replaces a garden which was lost during the redevelopment of the site. During 2012, local residents helped to kick start the growth and 'rebirth' of the space, planting native hedgerows, 4 new fruit trees and an 'edible' hedge composed of rosemary, bay, gooseberries, blackcurrants, redcurrants,and other assorted herbs.
The Green Room
Designed and project managed by BOST in 2015, The Green Room is an ongoining project with the National Theatre. The site is currently being maintained by volunteers from Bank of America.
Christ Church Garden
Christ Church Garden is a green oasis off Blackfriars Road, with beds and borders of shrubs, flowers and holly hedging, all under a lush canopy of London plane and lime trees. In summer, the space is busy with local residents, office workers and church visitors, and contributes to the `green chain' of other spaces along the Thames border, including nearby Hatfields Green, and BOST's Waterloo Millennium Green.
Mint Street Park
Mint Street has become a centre for our Bankside community. The garden is on the site of the Evelina Children's Hospital which stood here 1869 – 1976 and tackled the high rate of childhood diseases prevalent in the crowded Victorian streets of Bankside.
Winchester Palace
Winchester Palace Garden is nestled in the ruins of the Place of the Bishops of Winchester. The planters area placed amongst the visible wall remains, that were part of the undercroft of the Great Hall. The surviving 13th Century Rose Window of the Great Hall is a beautiful backdrop to the Garden.
Living Space
Living Space Community Centre, Adventure Playground and MUGA was built in 2001 by Lambeth Council. For a number of years the centre was managed by Blackfriars Settlement, who provided youth services, a children's afterschool club and school holiday play scheme on the site.
Community Green Champions
Community Green Champions is an initiative established in partnership with United St. Saviours to encourage community involvement in green spaces.
Edible Bankside
Edible Bankside is an environmental project started in 2010, to enable local residents to grow their own food near to where they live, and in one of the most built-up, densely populated parts of London.